---
HOJNOST
Pravý zdroj hojnosti
Pravý zdroj hojnosti nenajdete nikde jinde než sami v sobě. Je součástí vašeho pravého já. Zkuste začít tím, že oceníte hojnost kolem sebe. Všímejte si pestrosti a dokonalosti života kolem sebe. Užívejte si hřejivé teplo slunce na své pokožce, nádheru květin vystavených před květinářstvím, sousto šťavnatého ovoce nebo osvěžující kapky letního deště. Dokonalost života na vás čeká na každém kroku. Tím, že oceníte hojnost, která je všude kolem, probudíte hojnost skrytou ve svém nitru. Až se tak stane, nechte ji proudit ven, třeba tím, že se usmějete na náhodného kolemjdoucího. Stanete se tak dárcem. Ptejte se sami sebe: "Co teď mohu udělat? Jak mohu být tomuto člověku, této situaci prospěšný/á?" K tomu, abyste se cítili bohatí, nepotřebujete žádný majetek, ačkoliv když se budete považovat za bohaté, věci k vám budou přicházet samy. Hojnost přichází jen k těm, kteří už jsou "bohatí". Možná vám to bude připadat nespravedlivé, ale tak to vůbec není. Je to obecný zákon. Bohatství i chudoba jsou vnitřní stavy, jež se projevují ve vnějším světě jako vaše realita. Ježíš to vyjádřil takto: "Kdo má, tomu bude dáno. A kdo nemá, tomu bude odňato i to, co má."
Zdroj: Nová Země – Eckhart Tolle

Nová země - Eckhart Tolle

Poznejte bohatství
Začněte ve všem rozpoznávat bohatství a mějte z něj radost.
Jeden známý newyorský evangelický duchovní vzpomíná na doby, kdy byl ještě chudý kazatel. Když v drahých čtvrtích míjel luxusní restaurace a vily, limuzíny a módní salony, říkával si: "To všechno je pro mne." Dovolte, aby vám moderní byty, jachty, banky, luxusní obchody a výstavní síně všeho druhu přinášely radost. Uvědomte si, že to vše je součástí vaší hojnosti a že si rozšiřujete vědomí, aby to sloužilo i vám, chcete-li. Při pohledu na dobře oblečené lidi si myslete: "Není fantastické, že žijí v takovém blahobytu? Na světě je dost pro nás pro všechny." Nechceme si přivlastňovat cizí dobro. Stojíme o vlastní.
A přesto nic nevlastníme, pouze určitý čas užíváme určitý majetek, dokud nepřejde do dalších rukou.. někdy zůstane v rodině po několik generací, nakonec však vždy změní majitele. Život má svůj přirozený rytmus. Věci přicházejí a zase odcházejí. Věřím, že když něco odchází, děje se tak proto, aby se tak uvolnilo místo něčemu novému a lepšímu.
Z knihy Miluj svůj život od Louise L.Hay
Radujte se ze štěstí druhých
Nebraňte vlastnímu úspěchu a zbavte se odporu nebo závisti vůči tomu, kdo má víc než vy. Nekritizujte ho za to, jak se rozhodl utratit své peníze. Nic vám do toho není. Každého řídí zákon vlastního vědomí. Pečujte o vlastní myšlenky. Žehnejte štěstí druhých a uvědomte si, že je ho dost pro všechny.
Dáváte malé spropitné? Máte ve zvyku utrousit na adresu toaletářky nějakou škrobenou poznámku? Ignorujete o vánocích vrátné v domě nebo v práci? Škudlíte a kupujete si levnější zeleninu a chleba, i když nemusíte? Nakupujete v bazarech a objednáváte si zásadně nejlevnější oběd v jídelním lístku?
Existuje zákon nabídky a poptávky. Nabídka přichází první. Peníze si vždy najdou správnou cestu tam, kde jsou potřeba. I ta nejchudší rodina dokáže téměř vždycky dát dohromady dost peněz, aby mohla zaplatit například křtiny.
Z knihy Miluj svůj život od Louise L.Hay
Zasloužím si
Nechceme-li přistoupit na to, že si zasloužíme, aby se nám dobře dařilo, pak bohatství odmítneme, i když nám padne přímo do náruče. Svědčí o tom následující příklad:
Jeden z mých studentů se snažil zvýšit si příjem. Jednou přišel do třídy nesmírně vzrušený - právě vyhrál 500 dolarů. Neustále opakoval: "Já tomu nevěřím! Já přece nikdy nic nevyhrál!" Věděli jsem, že je to odraz jeho měnícího se vědomí. Stále měl pocit, že si to v podstatě nezaslouží. Příští týden na sezení chyběl - zlomil si nohu. Účty za ošetření ho přišly přesně na 500 dolarů. Bál se cesty kupředu, bál se vykročit novým směrem k bohatství a cítil se nezaslouženě. Potrestal se sám.
Vše na co se soustředíme se zintenzivňuje a roste, proto příliš nepřemýšlejte o účtech. Soustředíte-li se na nedostatek a dluhy, budete vytvářet další.
Vesmír je nevyčerpatelný, uvědomte si to. Počítejte hvězdy, zrnka písku na dlani nebo listy na stromě, kapky deště na okenní tabulce, jadérka v rajském jablku. Každé z nich je schopno zrodit nový keř s dalšími plody. Já ráda s láskou žehnám všemu, co mám - svému bytu, teplu, vodě, světlu, telefonu, nábytku, spotřebičům, oblečení, dopravním prostředkům, práci, penězům, přátelům, své schopnosti vidět, cítit, chutnat, dotýkat se, kráčet a žít na této neuvěřitelně krásné planetě.
Tím jediným, co nás skutečně omezuje, je naše víra v tato omezení a nedostatek. Co omezuje vás? Chcete mít peníze jen proto, abyste mohli pomáhat druhým? V tom případě se považujete za bezcenné. Neodmítejte bohatství. Pozve-li vás přítel na oběd nebo večeři, s potěšením nabídku přijměte. Nemějte pocit, že s lidmi jen "obchodujete". Dostanete-li dárek, vděčně jej přijměte. Jestliže vám k ničemu není, dejte jej někomu dalšímu. Nechte věci plynout dál. Usmívejte se a děkujte. Dáte tak vesmíru najevo, že jste připraveni přijímat vše, co vám bude sloužit k dobru.
Z knihy Miluj svůj život od Louise L. Hay
Miluj svůj život - Louise L. Hay 2003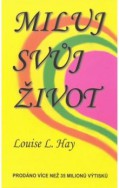 Miluj svůj život - Společník a rádce - Louise L. Hay 2004

Miluj svůj život - Louise L. Hay 2007

Miluj svůj život - meditace - Louise L. Hay 2006